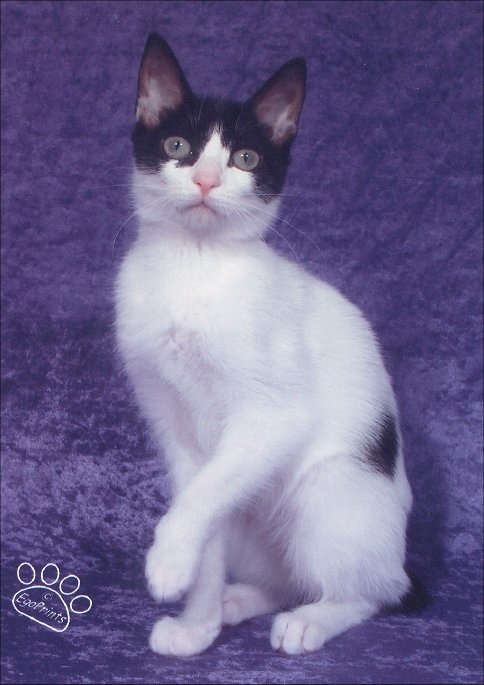 THE ORIGIN OF THE BREED
The earliest written evidence of cats in Japan indicates that they arrived from China or Korea at least one thousand years ago. For hundreds of years bobtailed cats were highly valued and guarded. In 1602 Japanese authorities decreed that all cats should be set free to cope with vermin threatening the silkworms. Buying or selling cats was forbidden, and from that time forward bobtailed cats lived on farms and in the streets. Thus Japanese Bobtails are the "street cats" of Japan.
They were first brought to the United States by American servicemen, who had acquired them as pets overseas. The Bobtails attracted the attention of American cat breeders, who imported the first breeding stock to the United States from Japan in the 1960s. Japanese Bobtails were granted Provisional Breed status in 1971, and achieved Full Championship status in CFA in 1976. The Japanese Bobtail is a natural breed and does indeed come from Japan; all CFA registered cats can be traced back to the original imports.
THE MANEKI NEKO
The Japanese Bobtail has existed in Japan for many centuries. It is featured in many ancient stories, art prints and paintings, and to this day is considered good luck to have in the house. When visiting Japanese shops, you will often see a ceramic "maneki neko" (beckoning cat) near the front door with one paw raised. This traditional symbol of welcome and good luck is a stylized rendition of the much-cherished Japanese Bobtail cat.


The maneki neko figurine is most frequently seen in Japanese shop windows or by doorways offering hospitality and good fortune to all who enter, and good business to the owner. Large or small, made in a variety of materials from papier mache to fine porcelain, most are adorned with neck ribbons with attached bells. Some have their right paw raised, some their left. The maneki neko is the traditional symbol which heralds the Japanese Bobtail, its fine ancestry, and good fortune.